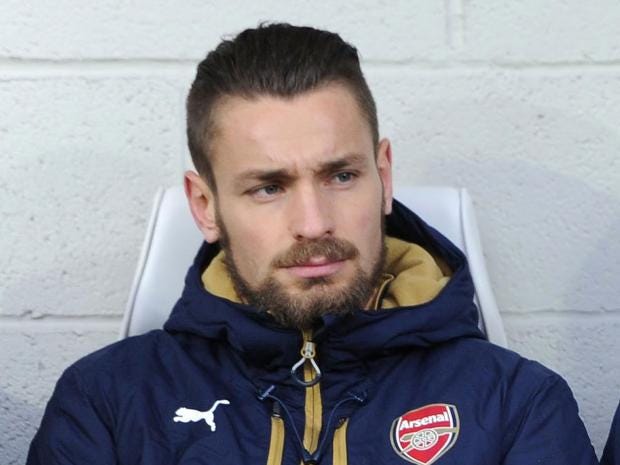 Arsene Wenger angrily accused Mathieu Debuchy of lying after the out-of-favour right-back claimed that he was blocked from leaving Arsenal. Debuchy said in an interview in France this week that Wenger did not allow him to go to Manchester United, Espanyol or Fiorentina during the last two transfer windows, claims that Wenger dismissed as "completely untrue".
But at his press conference at London Colney this morning, Wenger insisted that there had been no offers for the unhappy France international. "Nobody came in for him in the summer, there are some things are not true in this article" Wenger said. "We never blocked him from going to Fiorentina or Espanyol. They had no interest in him at all, we checked that. You have to take that article with a little distance. It is a little bit of a frustrated article from a player who is injured."
Debuchy also said that Wenger had blocked an attractive move to Manchester United, who wanted him on loan in January 2016, but Wenger denied that too. "They never made an offer from him," Wenger said. "That is completely untrue. It is sometimes surprising to hear things like that."
Debuchy lost his place as first choice right back to Hector Bellerin two years ago and has missed long spells with shoulder and ankle injuries. He spent the second half of last season on loan at Bordeaux but there was no permanent deal. Debuchy has only played 16 minutes for Arsenal this year, starting the home win against Bournemouth on 27 November before being forced off with an injury.
The former Newcastle United man has cut an unhappy figure this season and said last week that he was upset that Wenger was keeping him at Arsenal rather than letting him go. "I had chances at the end of the window," Wenger said. "Unfortunately the club did not want to release me. I was not playing much, it was Manchester [United]. There is not much more to say. It was almost unexpected but the coach said no. It was something that I did not appreciate." Wenger confirmed that the club will listen to offers for Debuchy in January.